Chinese Tarot: Free Interpretation of the 22 cards
Chinese Tarot: The 22 Major Arcana Cards Meanings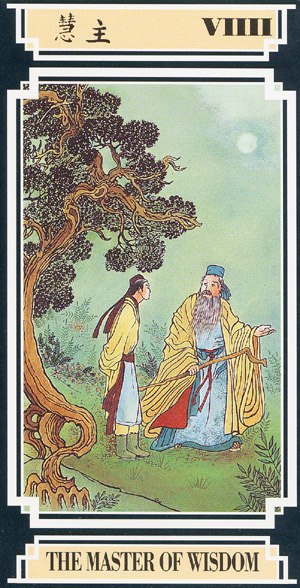 Card 9

THE MASTER OF WISDOM
Business-Money
Auspicious: the card shows a wise and intelligent management of affairs and budget. The subject is considered a valuable advisor. One may consult him often, but perhaps he is sometimes too prudent.
Against: the subject is not reasonable. The card announces an administrative mess or financial risk. It indicates that the subject would do well to use a management consultant, or consult one wiser than him.
Work-Career
Teaching, monastic life, philosophy.
Love - Relations
In the sentimental field, the subject is prudent and wise. He will not engage lightly. He needs to build a relation on an intelligent basis. It can be a guide for the one with which he built his life. He is however rather off, it does not run after the conquests.
Health
The subject manages his health capital with wisdom and moderation. His health is good. In case of a problem, the card shows that a solution will be found through a master, a doctor, or an outstanding surgeon.
Spirituality
The subject is already very spiritually advanced.
Auspicious: he is already a master, or he will be early or late.
Against: he seeks a master and is going to find one. The specified path is of solitude or retirement.


Click on the number of a card to know its meaning