Chinese Tarot: Interpretation of the 22 cards
Free Chinese Tarot Online
Chinese Tarot: The 22 Major Arcana Cards
Major Arcana Chinese Tarot Cards Meaning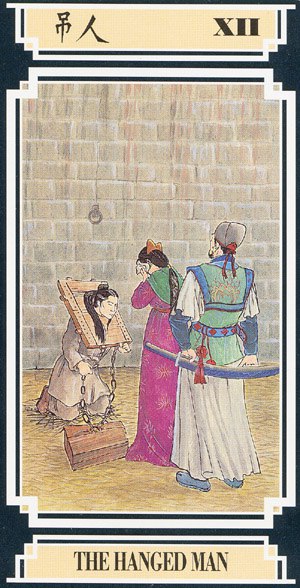 Card 12

THE HANGMAN
Business-Money
The card indicates a problem. The subject feels helpless in front of his problems. He has his hands tied by lack of money or ideas, or because of adverse circumstances. He is no longer his own master. He could also be the victim of a justified accusation. He may lose his place. Relatives are suffering from the backlash.
Work-Career
The card indicates all professions in which we are trapped in a narrow place, linked or attached, or even connected to machines. Astronauts, racecar drivers, fighter pilots, skyscraper window cleaners, rope climbers submariners.
Love
The card shows that the subject is bound by his passions, his feelings for someone, or that he is not free to love or to establish a union for family reasons, maybe because of a divorce or even because he is in prison.
Health
The card indicates that the person concerned is or will be immobilized. There may be hospitalization or immobilization by a cast or a medical apparatus.
Spirituality
The specified path is of detachment. In addition, the card can indicate a momentary blockage in the spiritual path of the subject.


Click on the number of a card to know its meaning