Chinese Tarot: Free Interpretation of the 22 cards
Chinese Tarot: The 22 Major Arcana Cards Meanings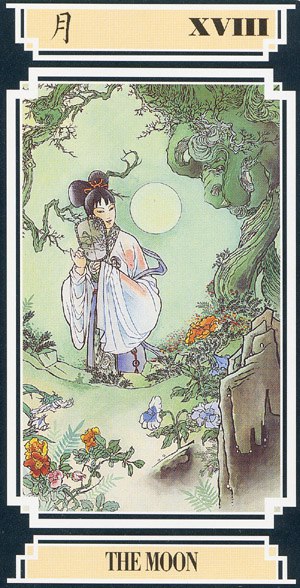 Card 18

THE MOON
Business-Money
The card shows a calm situation, without a significant problem, but also a moment of reflection or imagination before a new step. If it is about a business: an extension or an association. For a designer, it's mental gestation of the work prior to his execution. There is a need to take stock, taking advantage of the fact that he is not pressed for time.
Work-Career
Poetry, novels, arts, cinema, photo, television, aesthetics, perfumery, fashion, hairstyles and jewelry.
Love - Relations
The card shows an engagement party, a close engagement, a happy event.
Health
The card shows good health, great fertility, or youth.
Spirituality
The specified path is contemplative, religious or mystical. The subject is very receptive. He is ready to move to a higher stage.


Click on the number of a card to know its meaning