Chinese Tarot: Free Interpretation of the 22 cards
Chinese Tarot: The 22 Major Arcana Cards Meanings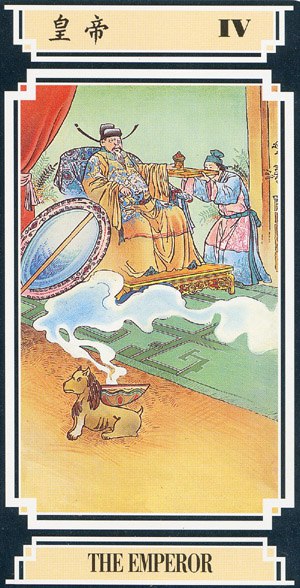 Card 4

THE EMPEROR
Business-Money
The card indicates that the subject has built his profession on a solid and stable basis that he knows to manage and administer. He is the authority in his profession and encourages respect. It announces a high function access.
Auspicious: it can also indicate the support of important figures, like politicians.
Against: One rebels against authority. Administrative issues, disorder, mismanagement.
Work-Career
Business management, politics, judiciary, ministers, ambassadors, managing companies.
Love - Relations
The subject is in a strong position, dominating the situation. Regarding an established or growing couple, the card indicates solid existing or future bases. The subject might be facing a partner who tries to control him, but the card can also indicate a marriage or union with an important person.
Health
Good heredity, solid basis. The parents of the subject or those who have raised him provided him with a good foundation for the future. Good health, balanced lifestyle. He knows how to take care of his own health.
Spirituality
The best spiritual path is astrology, but other channels like the Kriya Yoga or yoga of energy are also suggested.


Click on the number of a card to know its meaning