Chinese Tarot: Interpretation of the 22 cards
Free Chinese Tarot Online
Chinese Tarot: The 22 Major Arcana Cards
Major Arcana Chinese Tarot Cards Meaning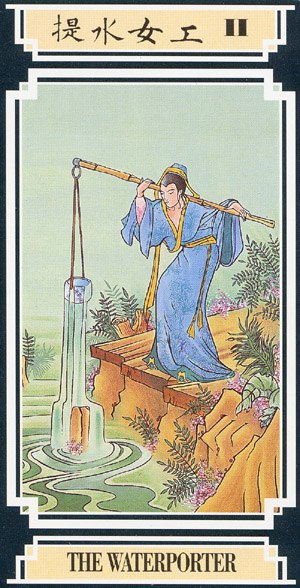 Card 2

THE WATERPORTER
Business-Money
Auspicious: the card is very favorable. It shows great potential, good foundations, large financial opportunities, opening credits. For intellectuals, it shows great knowledge, but also the possibility to become richer through intellect.
For everyone: inexhaustible ideas.
Against: the subject lacks basic information or qualifications.
Or: the subject is momentarily lacking in ideas.
Work-Career
Banking, finance, water and forests. Professions related to food.
Love
The card indicates that the subject has the foundations necessary for the creation of a couple. It promotes the union of a couple and the possibility of having a child. The subject or person concerned is generous, but give wisely.
Health
Bon équilibre physique et mental, les deux hémisphères cérébraux, le droit et le gauche,sont équilibrés. Excellente vitalité. Le sujet est bien nourri.
En contre : La carte annonce faiblesse et/ou stérilité.Good physical and mental balance. The two cerebral hemispheres (right and left) are balanced. Great vitality. The subject is well fed.
Against: the card announces weakness and/or sterility.
Spirituality
Great spiritual wealth. The subject knows how to take advantage of what he has learned. It may in turn pass to another.


Click on the number of a card to know its meaning