Chinese Tarot: Free Interpretation of the 22 cards
Chinese Tarot: The 22 Major Arcana Cards Meanings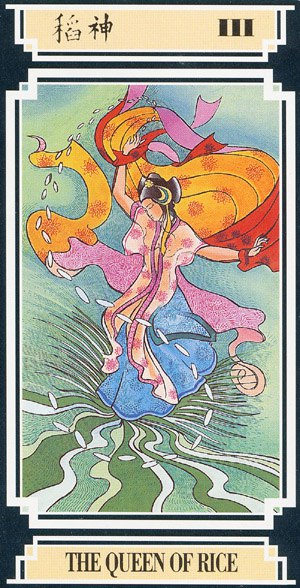 Card 3

THE QUEEN OF RICE
Business-Money
The card announces the effective start-up of a business, but also happy transactions, good business performance, fruitful exchange, and travel.
Against: stagnation.
Work-Career
Communication, public relations, trade, business, dance, animation, agriculture.
Love - Relations
Meetings, exchanges, the subject is looking for a soul mate through social networks, the internet, agencies, ads, and club meetings. He should move to join his partner. In case of an existing union, the relationship is excellent, their exchanges are good, they communicate.
Against: difficult to communicate.
Health
The card announces the restoration of energy and good circulation.
Against: vital exchange problems, poor circulation of blood or energy.
Spirituality
Recommended methods are sacred dances, the Taiji Quan, the music. The card shows that the subject is on the right track.


Click on the number of a card to know its meaning