Mahjong Tiles Symbolism
Mahjong Oracle Fortune Telling
Free Chinese Oracle
Mahjong Tiles Symbolism
A modern oracle from an ancient game with beautiful mahjong divination tiles free online
Mahjong Chinese Symbolism of the 144 Tiles

36 Bamboos, 36 Circles, 36 Caracters
16 Simple Honors, 12 Superior Honors,
8 Supreme Honors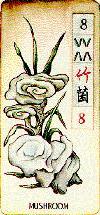 Bamboo 8

Symbol: Mushroom

The Mushroom tile represents eternal life and oddity. It gets these attributes from the fact that mushrooms in nature always seem to regenerate and often popup where they are unexpected. The notion of oddity is derived from the mushroom seemingly having the nature of a plant, but lacking leaves. The Mushroom tile foretells the coming of unexpected events that will have a lasting impact on you.



Chinese Symbol and Pinyin Pronunciation


Click on a tile to see its symbolism.


The 36 Bambos represent Axis of the Earth
4 suites of 9 bamboos.



36 Points or Circles represent the Wheel of Heaven
4 suites of 9 points.



The 36 Characters represent the changes of the life of Man
4 suites of 9 caracters.


>
16 Simple Honors,
4 times 4 Directions or Winds.



12 Superior Honors,
4 times 3 Dragons.



8 Supreme Honors,
4 Flowers,



4 Seasons.


Get Another Reading