Mahjong Tiles Symbolism
Mahjong Oracle Fortune Telling
Free Chinese Oracle
Mahjong Tiles Symbolism
A modern oracle from an ancient game with beautiful mahjong divination tiles free online
Mahjong Chinese Symbolism of the 144 Tiles

36 Bamboos, 36 Circles, 36 Caracters
16 Simple Honors, 12 Superior Honors,
8 Supreme Honors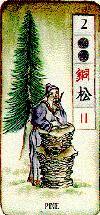 Circles 2

Symbol: Pine Tree

The Pine Tree tile represents strength and resolve. It often refers to a powerful, determined man. While powerful, this person is not violent, but very skilled in attaining his goals through diplomacy.


Chinese Symbol and Pinyin Pronunciation


Click on a tile to see its symbolism.


The 36 Bambos represent Axis of the Earth
4 suites of 9 bamboos.



36 Points or Circles represent the Wheel of Heaven
4 suites of 9 points.



The 36 Characters represent the changes of the life of Man
4 suites of 9 caracters.


>
16 Simple Honors,
4 times 4 Directions or Winds.



12 Superior Honors,
4 times 3 Dragons.



8 Supreme Honors,
4 Flowers,



4 Seasons.


Get Another Reading