The 144 Mahjong Tiles Symbolism
Mahjong Oracle Fortune Telling
Mahjong Chinese Symbolism of the 144 Tiles

36 Bamboos, 36 Circles, 36 Caracters
16 Simple Honors, 12 Superior Honors,
8 Supreme Honors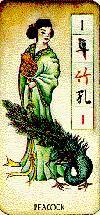 Bamboo 1

Symbol: Peacock

This is the first tile of the first suit in a Mahjong set. Overall, it represents success. However it also warns that success sometimes turns to arrogance, which can lead to loss of everything that has been gained. The Peacock tile also suggests a change in your life path is forthcoming.


Chinese Symbol and Pinyin Pronunciation


Click on a tile to see its symbolism.


The 36 Bambos represent Axis of the Earth
4 suites of 9 bamboos.


36 Points or Circles represent the Wheel of Heaven
4 suites of 9 points.


The 36 Characters represent the changes of the life of Man
4 suites of 9 caracters.


16 Simple Honors,
4 times 4 Directions or Winds.


12 Superior Honors,
4 times 3 Dragons.


8 Supreme Honors,
4 Flowers,


4 Seasons.