Mahjong Tiles Symbolism
Mahjong Oracle Fortune Telling
Free Chinese Oracle
Mahjong Tiles Symbolism
A modern oracle from an ancient game with beautiful mahjong divination tiles free online
Mahjong Chinese Symbolism of the 144 Tiles

36 Bamboos, 36 Circles, 36 Caracters
16 Simple Honors, 12 Superior Honors,
8 Supreme Honors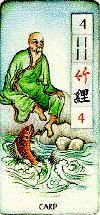 Bamboo 4

Symbol: Carp

The Carp tile indicates the attainment of inner-peace, tranquility, and freedom from the pressures of everyday life. Contentment will be realized. The Carp's vibrant colors suggest a rich life. This may mean the coming of material and/or spiritual wealth.


Chinese Symbol and Pinyin Pronunciation


Click on a tile to see its symbolism.


The 36 Bambos represent Axis of the Earth
4 suites of 9 bamboos.



36 Points or Circles represent the Wheel of Heaven
4 suites of 9 points.



The 36 Characters represent the changes of the life of Man
4 suites of 9 caracters.


>
16 Simple Honors,
4 times 4 Directions or Winds.



12 Superior Honors,
4 times 3 Dragons.



8 Supreme Honors,
4 Flowers,



4 Seasons.


Get Another Reading