Gong Hee Fot Choy Dream Book by Margarete Ward.
The book wich Psychically interprets your dreams.
It includes new added features of Chinese Philosophy.

Margarete Ward
October 16th, 1890 - October 17th 1977

"Following the publication of my fortune-telling system, Gong Hee Fot Choy, many people have requested that I publish a book of dreams. This book is my response to the public's demand."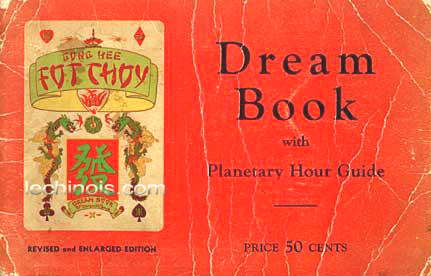 In this work I have given you the psychic interpretation of nearly 600 dreams. The object of this work is to teach each of you to decipher your own dreams. It is very easy to do if you will quietly analyze everything you have dreamed about.

There are only three kinds of dreams - the actual contacts of your soul with others while you sleep, good prophecies, and warnings.

I hope that The Book of Dreams will teach you not only the meanings of your dreams, but how to dream well. May all of your dreams be helpful, guiding ones.

Margarete Ward (1938)

page 1
---
THE DREAM DICTIONARY
The psychic interpretation
---