The Cross Draw is a very popular classic.


The layout of the cards.

Carta 1. Es el lado izquierdo de la Cruz. Esta tarjeta representa los activos de la persona que consulta; los factores positivos en relación con su pregunta o problema.

Carta 2. It is the right side of the cross. It highlights the negative factors. Those who play against the will of the person who consults.

Card 3. It is the top of the cross. It indicates what the problem is or the state of the question is at this moment or in a short period.

Card 4. It is the bottom of the cross. It indicates where the state of the issue for the future, or in the medium term is heading.

Card 5. This the synthesis which tells us if the issue goes to a positive or negative result. However, we must consider the entire spread to interpret the meaning of this card synthesis.


| | | |
| --- | --- | --- |
| | 3. Your Situation | |
| 1. The Pros | The Synthesis | 2. The Obstacles |
| | 4. The Evolution | |
1. The Pros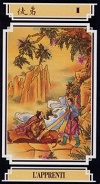 Card 1
THE APPRENTICE


The card announces a start, a beginning or an apprenticeship. The subject is in the process of beginning studies or retraining (foreign language, computer science)
Auspicious: the card invites or approves this learning.
Against: there will be an obstacle to an apprenticeship or the card indicates that the subject lacks sufficient knowledge.


2. The Obstacles
Card 21
THE MONKEY


The card shows that the subject is as smart as a monkey. He is brave, curious about everything, persistent, inventive, insightful, or even great, just like the hero of this story. Certainly, he is a little "did you see me" and likely to annoy his interlocutors. Whatever he is, the card announces that the subject will overcome all the obstacles, of which there will be many, and reach the goal he set for himself.


3. Your Situation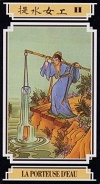 Card 2
THE WATERPORTER


Auspicious: the card is very favorable. It shows great potential, good foundations, large financial opportunities, opening credits. For intellectuals, it shows great knowledge, but also the possibility to become richer through intellect.
For everyone: inexhaustible ideas.
Against: the subject lacks basic information or qualifications.
Or: the subject is momentarily lacking in ideas.


4. The Evolution
Card 17
THE STAR


The card is a good sign. It evokes fullness, beauty, or fertility. It indicates that the business of the subject is prosperous, without a sign of stopping. It announces a fullness, either intellectual or artistic. The subject can feel satisfied with the result of his work, or the goods and works he has accumulated.


The Synthesis
Card 5
THE ILLIMUNATED PAGODA


A great idea can allow the subject to transform a business and grow, to make a scientific discovery or to undertake the creation of a work. This card helps inventors, creators, or artists.
Against: the work or the matter is trivial, dull, or lifeless. It must be given a new impetus.