The Cross Draw is a very popular classic.




The layout of the cards.

Card 1. It is the left side of the Cross. This card represents the assets of the person who consults. The positive factors in relation to your question or problem.

Card 2. It is the right side of the cross. It highlights the negative factors. Those who play against the will of the person who consults.

Card 3. It is the top of the cross. It indicates what the problem is or the state of the question is at this moment or in a short period.

Card 4. It is the bottom of the cross. It indicates where the state of the issue for the future, or in the medium term is heading.

Card 5. This the synthesis which tells us if the issue goes to a positive or negative result. However, we must consider the entire spread to interpret the meaning of this card synthesis.


| | | |
| --- | --- | --- |
| | 3. Your Situation | |
| 1. The Pros | The Synthesis | 2. The Obstacles |
| | 4. The Evolution | |
1. The Pros
Card 21
THE MONKEY

The card shows that the subject is as smart as a monkey. He is brave, curious about everything, persistent, inventive, insightful, or even great, just like the hero of this story. Certainly, he is a little "did you see me" and likely to annoy his interlocutors. Whatever he is, the card announces that the subject will overcome all the obstacles, of which there will be many, and reach the goal he set for himself.
2. The Obstacles
Card 10
DESTINY

Affairs of the subject turn out well. His work is profitable. It easily provides for the future, anticipating the reactions of others and acts accordingly. He is extremely creative. The card is favorable to the professional success of the topic. In the short term, the card announces a success.
3. Your Situation
Card 20
THE TAO

The subject is one with his work. He identifies himself with his business or work. But he lacks meaning. He tends to 'hover' and disconnect from reality. As he accesses the summit of success, his knowledge or his art, he forgets that nobody can follow him and is likely to be left all alone. His staff or his bosses no longer understand, his work is no more accessible to the common man. The card indicates the subject must make an effort to become humble again.
4. The Evolution
Card 19
THE SUN

The card announces a brilliant accomplishment or success. The subject's businesses are radiant. His work is known and appreciated. The subject may achieve fame. The card can also indicate a professional association, or even announce a connection to his love life. The subject could work with his love partner.
The Synthesis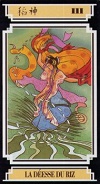 Card 3
THE QUEEN OF RICE

The card announces the effective start-up of a business, but also happy transactions, good business performance, fruitful exchange, and travel.
Against: stagnation.