Your hand-picked or randomly selected fortune lot!
Your Selected Lot


Your Lot number is: 57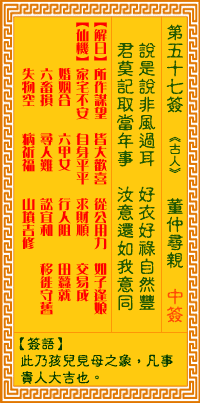 诗曰 [ 詩曰 ] The poem into Chinese
说是说非风过耳 好衣好禄自然丰
君莫记取当年事 汝意还如我意同

The global interpretation for this lot
Average

1. Translation from the ancient Chinese text
To rumor and scandal your ears should be shut, for your lot is a harvest of food and fine clothing. Past sorrow and grievance be put out of your mind. Place your trust in me and joy will be yours. Everyone rejoices at the plan's success, the happiness is shared by friends and relatives alike. Don't be selfish but let public affairs be your concern with the devotion a mother lavishes on her child.

2. The Meaning
This lot describes an infant under the devoted care and protection of the mother, It illustrates that all is well looked after so you are completely free from worries. You personally are safe but your family is not. Trading will turn out profitable for you. Matrimony will be successful but only a daughter will be born. The journey of travelers will be blocked. Both farming and the silk industry will yield profit but the livestock will be harmed. The missing will not be found. Disputes should be settled amicably. Lawsuits are not advisable. Better not move house as migration brings you no good fortune. Things lost will never be found. Only prayers can help the sick. A lucky year for the ancestral graves.