Your hand-picked or randomly selected fortune lot!
Your Selected Lot


Your Lot number is: 55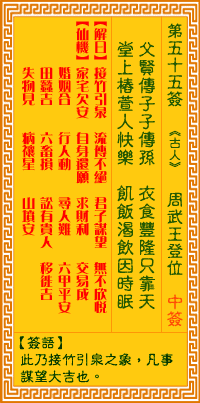 诗曰 [ 詩曰 ] The poem into Chinese
父贤传子子传孙 衣食丰隆只靠天
堂上椿萱人快乐 饥饭渴饮困时眠

The global interpretation for this lot
Average

1. Translation from the ancient Chinese text
To a good father will come so many sons. Their food, their clothing, the heaven will provide. My parents live and prosper in health. Let them eat and drink and sleep just as they choose. As bamboo poles standing in line lead to a large spring. Generations after generations prosper and move on. As long as a man remains gentle and virtuous, whatever he wishes will come to hand.

2. The Meaning
The scene depicts a pile of bamboo leading towards a stream. A man's hope and aspiration will be realized at the final stage. If and when you and your family are safe, you must make offerings to god. You may make profits from business transactions. Matrimonial affairs will come to a success conclusion. The expected guest has started on his journey. To find the missing will be difficult. A baby will be safely born. Farming and the raising of silkworm will be profitable but harm may come to your cattle. In lawsuits, a man of power and influence will come to your rescue. Traveling is recommended and things lost will reappear. For the sick, it is wise to set up an altar to drive out the devils. Your ancestral graves will remain in peace.