Your hand-picked or randomly selected fortune lot!
Your Selected Lot


Your Lot number is: 37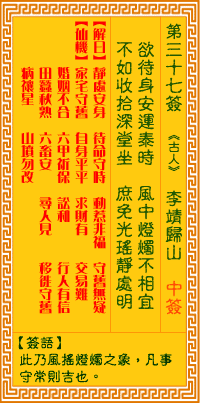 诗曰 [ 詩曰 ] The poem into Chinese
欲待身安动泰时 风中灯烛不相宜
不如收拾深堂坐 庶免光摇静处明

The global interpretation for this lot
Average

1. Translation from the ancient Chinese text
Don't you dare expose yourself to the naked sun. The burning candle barely flickers in the wind. It's best to retire and hide in distant lands. Follow the life of a hermit and enjoy blissful peace.

2. The Meaning
A lighted candle flickers precariously in the wind. You should retreat from an unfavorable situation, keep away from risks and lead a secure and peaceful life. Retire to a quiet and secluded place. You are advised to do nothing but wait. Any movement may bring danger and harm so your only guard is to remain calm. Keep your present home unchanged and no risk will come to you. Making business deals will be very difficult but you are likely to make money in the end. Marriage will not be successful and pregnancy can only be saved through prayer. Grain crops and silkworm should be reaped in the autumn. Cattle will meet no harm. You will receive messages from travelers and clues as to the whereabouts of the missing. Lawsuits will be settled peacefully. Migration or move is not advisable. For the sick, you will have to pray. Any conversion of ancestral graves would be unwise.