Your hand-picked or randomly selected fortune lot!
Your Selected Lot


Your Lot number is: 31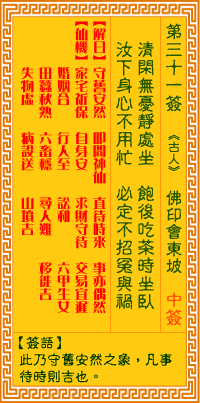 诗曰 [ 詩曰 ] The poem into Chinese
清闲无忧静处侩 饱后吃茶时坐卧
汝下身心不用忙 必定不招冤与祸

The global interpretation for this lot
Average

1. Translation from the ancient Chinese text
You will lead a life of ease and peace. You will have no cause for worry or concern. Relax, when the metal is done, enjoy a sip of tea. Be sure, no grief or misery will come.

2. The Meaning
You are advised to take things easy and remain calm without bothering for change. Everything will turn out well if you are patient enough. Remain calm and free from anxiety. You may as well ask advice from fairies. Patience and tolerance will work a miracle for you. Nothing can be achieved till the time is ripe. You must pray to god to care for your family but no danger will come to you. Business is better late in the year. There is no chance of making a great fortune so the only thing is to be patient. Match-making looks promising, and the mother will give birth to a daughter. Cattle raising will be very stable and profitable while you can expect a good harvest of silkworm in the autumn. The visitor you are expecting will arrive in due course but the missing is not easy to find. There is no hope of finding things lost. Lawsuits will be settled through mediation. Migration looks favorable. For the sick to be cured you must set up an altar to expel the devil. Your ancestral graves will be blessed.