Guanyin Past Present Future!

Your Past Present Future Guan Yin Oracle
The three lots in this reading represent
your past, present and future situations.

Scroll down to learn the influence of each Lot.


Lot number: 41


Your Past


The global interpretation for this lot is:

Average

1. Translation from the Chinese ancient text

Beware of sweet and honeyed word that twist and spoil your paternal love. Once you treat a thief as your son. An unwise deed you'll regret hereafter.

2. The Meaning

This is a parable of a man who is tricked into treating a thief as if he were his own son. It warns you to be watchful not to be deceived by falsehood. A single mistake may make you regret forever. Remember this advice of mine and you will not feel sorry for being sacrificed. Your family looks unsafe though you have nothing to worry for yourself. It is not easy to arrange business deals; the time is not ripe for making a fortune. Marriage arrangements will not be concluded. A son will be born but a lot of pain comes to the mother. Only half your grain and silkworm crop will be ripe for harvesting but you are guaranteed a good profit from livestock. Both the guest you are expecting and the missing will appear in time. Lawsuits should be settled out of court. Migration or moving to a new house foe does not look promising but if you want to go ahead, you must pray for god's protection. The ailing will be cured through prayer. There is no need to worry about your ancestral graves.



Lot number: 73


Your Present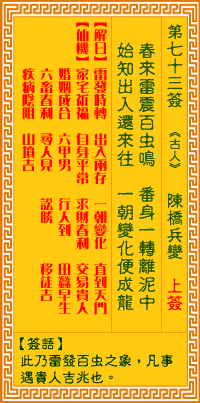 The global interpretation for this lot is:

Good

1. Translation from the Chinese ancient text

The sudden thunder of spring awakes all worms and insects. With joy, they chant in chorus and jump from earth. In winter deep in earth they lie, listless and slow. Set free, they are as active as a dragon released. The roar of thunder quickens the wheel of fortune. Circumstances have turned for the better. Such a big change in a single day. Like a somersault in front of heaven's gate.

2. The Meaning

This is a description of the natural phenomenon of spring thunder awakening all sleeping worms and insects. It is a good omen. It is a successful year for you and your family. You are likely to come to fortune in spring and people of power and influence will assist you in your business dealings. Marriage will be successful and your wide will give birth to a boy. The silk and grain crops will be good especially in the early part of the year. Livestock is also prosperous. Travelers will arrive on time and missing will appear. You will win in law cases. Travel is successful but the sick will have difficulties. There will be no problems for the ancestral graves.


Lot number: 52


Your Future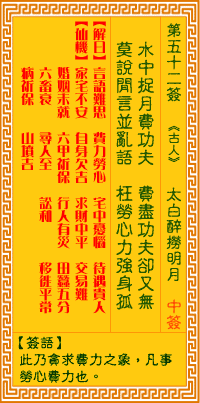 The global interpretation for this lot is:

Average

1. Translation from the Chinese ancient text

Seeking the moon in the reflection of a pool. Is nothing but vain and hopeless distraction so keep your tongue from gossip and scandal. For no one will be fooled by you alone. Empty words no one will trust. To those that hear they just bring harm. Trouble awaits you kith and kin. So hurry and seek a place to hide.

2. The Meaning

Just as someone wastes his effort in trying to catch the moon's reflection in the water so all endeavors a man makes will come to nothing. Your family will have a difficult and woeful time. You yourself are also unsafe. This is not much chance for making money and doing business has problems. Marriage cannot be concluded and pregnancy ca only be made safe by prayer. Disaster will befall upon travelers. Silk and grain crops will be reduced by half and raising cattle is a declining enterprise. This missing will return. Lawsuits should be settled out of court though compromise. Traveling is not recommended. This sick must pray in order to recover but your ancestral graves will not present any problem.