Guanyin Past Present Future!

Your Past Present Future Guan Yin Oracle
The three lots in this reading represent
your past, present and future situations.

Scroll down to learn the influence of each Lot.


Lot number: 53


Your Past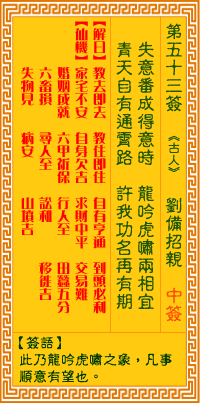 The global interpretation for this lot is:

Average

1. Translation from the Chinese ancient text

Man, disappointed, turns complacent and self-satisfied. Like the laughter of a tiger, like a triumph of a dragon. From earth I see a milky way in the sky. Rank and honor are clearly in your sight. Do whatever you have been instructed. Go ahead and don't harbor any disbelieve. For the road to success is prepared for you. No troubles, no obstacles, all the way is clear.

2. The Meaning

As a tiger roars and a dragon exalts in triumph, so everything longer for will be achieved. Both of you and your family lack safety. Riches do not lie ahead nor tare trading transactions smooth and easy. Marriage is promising but you must pray for your wife's pregnancy. The expected guest will arrive soon. You will reap only a half of your silk and cereal crop and your livestock will meet with harm. This missing will return and lawsuits will be settled peacefully. Things lost will be found and the sick will recover. Good luck will befall upon the ancestral graves.



Lot number: 1


Your Present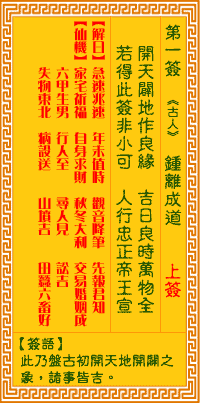 The global interpretation for this lot is:

Good

1. Translation from the Chinese ancient text

At the time the world began, all things were preordained. A favorable day brings each fruit ripeness. This is not uncommon that such a happy lot is drawn. By loyal and upright, the king will proclaim.

2. The Meaning

This lot refers to the creation of the world. It portrays prosperity in all things. This is a good fortune in store for you, thou not just yet. The Goddess Kuan Yin indicates to you in advance. To secure your own and family's safety, you should offer prayers. Autumn and winter will be very profitable for you. Business transactions and matrimonial affairs will turn out successful. The mother-to-be will give birth to a baby boy. Travelers will arrive soon and a person you are looking for will reappear. Prospects for farming raising silkworms and cattle are good and lawsuits successful. Anything lost will be found in the northeast. Illness will be overcome and your ancestral graves will be blessed.


Lot number: 82


Your Future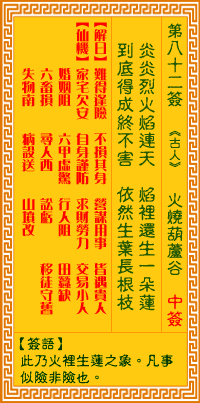 The global interpretation for this lot is:

Average

1. Translation from the Chinese ancient text

The fierce flames give out a scorching heat. Consumes all in its path but not the water-lily, not burnt nor scorched by the flame. Its leaves and fronds blossom ever again. Rescue comes in face of danger, no fracture, no slight injury. For sure you have a savior standing by who guards you in all disasters.

2. The Meaning

This lot describes the scene in which the water lily survives the flames of the fire and shows that you can reach safety through very hazardous conditions. Your family is unsafe and you must watch out for yourself. All efforts to acquire wealth will be in vain as your rivals are causing damage to your business. Matrimonial negotiations will not reach final agreement. Your wife will be pregnant but giving birth may be dangerous. Farming and silk production will fall short even your livestock will be damaged. Travelers will have obstacles on the way and the missing will b found in the west. Lawsuits is not in your favor nor is traveling. Lost items can be sound in the south. The cure for the sick lies in worship. To protect your ancestral graves, you must have them converted.