Guanyin Past Present Future!

Your Past Present Future Guan Yin Oracle
The three lots in this reading represent
your past, present and future situations.

Scroll down to learn the influence of each Lot.


Lot number: 31


Your Past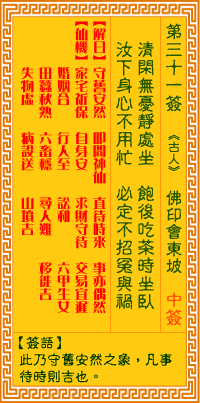 The global interpretation for this lot is:

Average

1. Translation from the Chinese ancient text

You will lead a life of ease and peace. You will have no cause for worry or concern. Relax, when the metal is done, enjoy a sip of tea. Be sure, no grief or misery will come.

2. The Meaning

You are advised to take things easy and remain calm without bothering for change. Everything will turn out well if you are patient enough. Remain calm and free from anxiety. You may as well ask advice from fairies. Patience and tolerance will work a miracle for you. Nothing can be achieved till the time is ripe. You must pray to god to care for your family but no danger will come to you. Business is better late in the year. There is no chance of making a great fortune so the only thing is to be patient. Match-making looks promising, and the mother will give birth to a daughter. Cattle raising will be very stable and profitable while you can expect a good harvest of silkworm in the autumn. The visitor you are expecting will arrive in due course but the missing is not easy to find. There is no hope of finding things lost. Lawsuits will be settled through mediation. Migration looks favorable. For the sick to be cured you must set up an altar to expel the devil. Your ancestral graves will be blessed.



Lot number: 30


Your Present

The global interpretation for this lot is:

Average

1. Translation from the Chinese ancient text

Don't aim too high, the best of my advice. A stork in flight may conceal a secret arrow. As you collect the faggots in the fields, you may find a snake. Much you'll grieve for that bite of venom.

2. The Meaning

This lot advice you to be content with your lot and hold yourself back from too high ambition. You must take every precaution against possible adversities. Keep your mouth as tight as a sealed bottle. Don't get involved but remain aloof. For anything done against your conscience, you will eventually suffer incalculable harm. Your home will be safe enough but your personal safety in uncertain. Business is slow and will come to a standstill. There is little chance to make a fortune, best bide your time. Marriage prospects are not promising and pregnancy will lead nowhere. The prospect of rearing herds looks unfavorable. Both travelers and visitors will encounter hardship. Migration or moving in a new house is not advisable. Lost things can never be found. This sick cannot be cured but your ancestral graves will have no trouble.


Lot number: 55


Your Future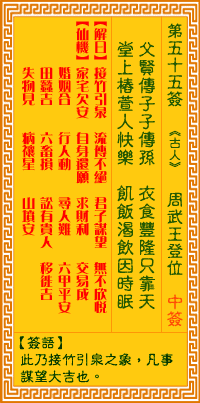 The global interpretation for this lot is:

Average

1. Translation from the Chinese ancient text

To a good father will come so many sons. Their food, their clothing, the heaven will provide. My parents live and prosper in health. Let them eat and drink and sleep just as they choose. As bamboo poles standing in line lead to a large spring. Generations after generations prosper and move on. As long as a man remains gentle and virtuous, whatever he wishes will come to hand.

2. The Meaning

The scene depicts a pile of bamboo leading towards a stream. A man's hope and aspiration will be realized at the final stage. If and when you and your family are safe, you must make offerings to god. You may make profits from business transactions. Matrimonial affairs will come to a success conclusion. The expected guest has started on his journey. To find the missing will be difficult. A baby will be safely born. Farming and the raising of silkworm will be profitable but harm may come to your cattle. In lawsuits, a man of power and influence will come to your rescue. Traveling is recommended and things lost will reappear. For the sick, it is wise to set up an altar to drive out the devils. Your ancestral graves will remain in peace.