Guanyin Past Present Future!

Your Past Present Future Guan Yin Oracle
The three lots in this reading represent
your past, present and future situations.

Scroll down to learn the influence of each Lot.


Lot number: 61


Your Past


The global interpretation for this lot is:

Average

1. Translation from the Chinese ancient text

By daylight verses are recited, at night sons are sung. On such an occasion let us savor these pleasures. Making merry in life comes so seldom. So why do we hide and not junket together? When a woman of beauty is in your arms, happily you are singing those beautiful songs. Since life is full of fortune and misfortune. No one can escape from the path of destiny.

2. The Meaning

This describes a scene of celebrations on festive days, it tells you to take advantage of chances and opportunities. Both of you and your family will enjoy peace and safety. Business will be good and you can expect a good profit. You will have a successful marriage and your wife will have a girl. The expected visitor will arrive soon and the missing will be found. It will be a good year for grains, silk and livestock. You will succeed in lawsuits. Moving to a new place is recommended but there is no hope of recapturing things lost. The sick will soon be cured and there is good luck for your ancestral graves.


Lot number: 89


Your Present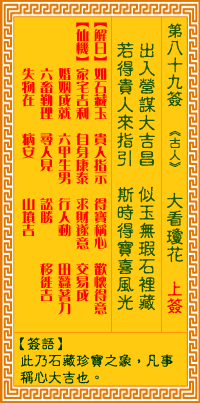 The global interpretation for this lot is:

Good

1. Translation from the Chinese ancient text

Your plans, your schemes so smoothly carried out. Like jade of rarest kind concealed in stone. A man of wealth and power will offer you his aid. The treasure and jewels are yours to keep. As jade is hidden in a stone, wealth and fortune gradually grow. A notable patron will lead the way for you. You are happy and have no more to day.

2. The Meaning

Just as the scene describes jewels hidden under a stone so you should be satisfied with the fortune in store for you. Your family will be safe and you will enjoy good health. Business enterprise grows smoothly and your dreams of becoming rich will be realized. Matrimony will be successful and a boy will be born. Farming and the silk industry will bring a big profit. Livestock will prosper with hard work. The visitor you are expecting has started on his journey and the missing will be found sooner or later. Things lost will reappear. You will be successful in lawsuits. Residential change is recommended. The sick will be cured; your ancestral graves will have their peace undisturbed.


Lot number: 35


Your Future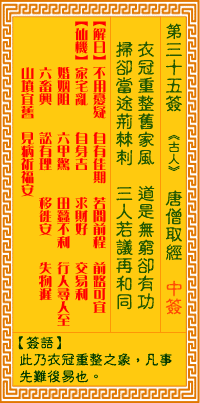 The global interpretation for this lot is:

Average

1. Translation from the Chinese ancient text

Your hats and coats must be adjusted. Restore the family name, now in bad shape. Remove the thorns and thistles, pave the way. When agreement is reached, great will be your reward.

2. The Meaning

This lot describes people dressing up in rich and formal costumes to upload the familyís name. Hardship must come before your wishes can be fulfilled. Doubts and fears lead to nothing, better wait for your lucky day. Be bold and set off on your journey because ahead of you is a wider avenue of opportunity. Your household will be in chaos but you are secure. Business transactions go well, bringing good profits. There will obstacles in marriage and pregnancy will be threatened by danger. Faring and raising silkworms are not profitable but livestock will give you a good yield. Visitors will come soon and the missing will be found. Lost things will reappear late in the year. Lawsuits will be favorable. Migration is encouraging; Illness can be cured through godís blessing. Leave your ancestral graves unchanged and the family will benefit.