Guanyin Past Present Future!

Your Past Present Future Guan Yin Oracle
The three lots in this reading represent
your past, present and future situations.

Scroll down to learn the influence of each Lot.


Lot number: 8


Your Past


The global interpretation for this lot is:

Good

1. Translation from the Chinese ancient text

Pine and cypress thrive and flourish. No rain or snow, wind or frost can do them harm. One day the timber will prove its value. You are like such timber, a bulwark of society.

2. The Meaning

This lot describes a scene of abundance cypress and pine trees. They symbolize human prosperity and dignity. You will enjoy a safe and easy journey and achieve success in your career. The grain and silk crop will be abundant. The prestige of your family will continue to grow, so will your wealth. Your family will be safe and good business opportunities are awaiting you. Your marriage will be successful. Profits will come from the silk manufacture and husbandry but losses in cattle-raising. A boy will be born, Travelers will send messages and the missing will be traceable. Things lost will be found. Lawsuits will go in your favor. Migration is advisable, and illness will be cured. Your ancestral graves are safe and secure.


Lot number: 97


Your Present

The global interpretation for this lot is:

Average

1. Translation from the Chinese ancient text

A candle in the wind casts fleeting shadows. Their reflections are like the blossom of willow trees. A sailor on a floating raft waits for rescue. A party-goer whistle in the curfew hour. Wealth and fame are at the disposal of god. Fate decided on whom poverty will fall. So to worry is a complete waste of effort. Got everything is arranged by destiny.

2. The Meaning

The scene describes lighting a candle in the wind. It is stupid to aim for an empty title without substantial benefit. To ensure the safety of your family, you must pray for god's protection. You will be lucky in acquiring money but you must be careful in business transactions. Marriage is possible but will not turn out specially good or bad. Danger threatens both the pregnant mother and her baby. Livestock, grains and silkworm will all be damaged. There is no message yet from the visitor you are expecting and no news of the missing. Lawsuits will be unfavorable to you. Moving house is not advised. There is no hope of regaining what was lost. The sick are out in bad condition be devils of the underworld. Ancestral graves should be reconstructed.


Lot number: 19


Your Future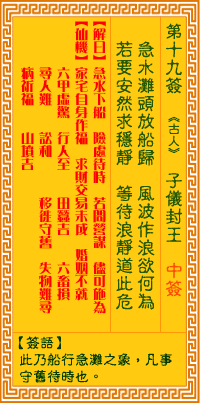 The global interpretation for this lot is:

Average

1. Translation from the Chinese ancient text

A homebound ferry rolls and pitches in the swirling gorges. The wind and the waves surge and roll but to what end? Stability and calm cannot be found. Wait till the angry waves rest in peace.

2. The Meaning

A boat is carried rolling through swirling rapids. You must be patient and wait for the right moment to come. Nothing can be done while the situation is precarious, as when the boat is borne through the rapids. But when the time is favorable, seize your chance and press ahead. You must pray to god for your family as well as your own safety. Business prospects are not promising, nor will marriage arrangements work out successfully. Pregnancy brings fear. Grains and silkworms will yield a good harvest, but you will lose some domestic animals. The traveler will come but it is very difficult to find the missing. Lost articles will never reappear. Lawsuits will be settled amicably. Migration is not recommended. The sick can only be cured through prayer. No harm will come to the ancestral graves.