Guanyin Past Present Future!

Your Past Present Future Guan Yin Oracle
The three lots in this reading represent
your past, present and future situations.

Scroll down to learn the influence of each Lot.


Lot number: 40


Your Past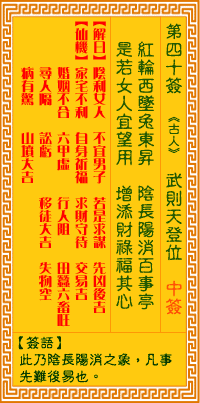 The global interpretation for this lot.

Average

1. Translation from the ancient Chinese text

As the sun sets, the moon will rise. The lunar power grows, the solar power wanes. If it be a woman seeking fortune, she will be blessed with joy all the year.

2. The Meaning

This describes the moon overshadowing the sun. The meaning is that once difficulties are overcome, progress becomes pain sailing. Blessing will go to woman, not the man because the moon's influence is ascending. Your wishes will first be rejected but granted in the end. Your family is in an unfavorable situation but your own safety is in the hands of god. Money making is not promising for the time being but will be better in the future. Matrimonial arrangements will not be concluded and your wife will not become pregnant. However it will be a prosperous year for your livestock, silkworms and grain crop. Both your guest and the missing will encounter difficulties. There are no clues as to the whereabouts of lost things. Migration or moving of residence is recommended. The sick will suffer much but will eventually be cured. There are no problems for your ancestral graves.



Lot number: 9


Your Present

The global interpretation for this lot.

Good

1. Translation from the ancient Chinese text

Yield not to greed and hate; cast them aside. Let conscience be your only guide. Your heart will be open, pure, sublime and bright. Just like the full moon that shines high in the sky.

2. The Meaning

This lot depicts full moon lighting up the sky. Everywhere is lit up with the brightness of hope. Be as upright, unbiased and impartial as you can and uphold the principles of reason, justice and mercy. No saint or sage ever yields to injustice and corruption. Darkness and light can always be distinguished. It will be a good year for you and your family. Business and trade can be transacted and profit gained. Marriage will be successful and pregnancy leads to the birth of a boy. Silk-making and husbandry will be profitable but domestic animals will be injured. Someone sets out on a journey. Things lost will be found through prayer. Law cases will be in your favor. Migration is advisable. Illness will be cured. You need have no worry about your ancestral graves.


Lot number: 29


Your Future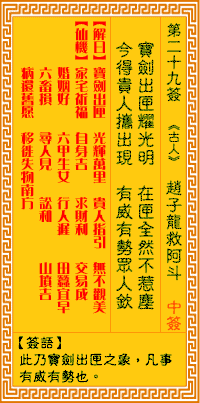 The global interpretation for this lot.

Average

1. Translation from the ancient Chinese text

The sacred sword, unsheathed, will shine and glitter. No dust or filth has touched the brightness of its surface. A man of noble rank takes hold of it now. Such chivalry is envied by all men.

2. The Meaning

This depicts a sacred sword being drawn from its sheath and signifies a show of pomp and grandeur of gallantry and bravery, When the sacred sword is drawn, its fame will spread far and wide. And the nobleman who bears this sword will be met with favor and popularity. There is no problem for your own safety but for your family you must offer prayers to god. Business transactions will be successful and lead to big fortune. Marriage will be successful and your wife will bear a girl. Farming and silk industry look promising but you will lose some cattle. The visitor you are expecting will arrive a little late and the missing will be found. Things lost will reappear in the south. Disputes will be amicably settled through goodwill. You will enjoy prosperity after migration to a foreign country. This sick will recover. The outlook for ancestral graves and tombs remains auspicious.