Guanyin Past Present Future!

Your Past Present Future Guan Yin Oracle
The three lots in this reading represent
your past, present and future situations.

Scroll down to learn the influence of each Lot.


Lot number: 1


Your Past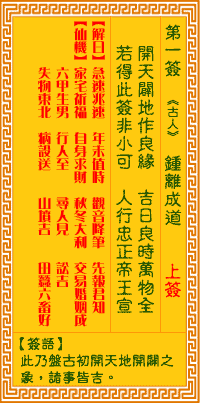 The global interpretation for this lot is:

Good

1. Translation from the Chinese ancient text

At the time the world began, all things were preordained. A favorable day brings each fruit ripeness. This is not uncommon that such a happy lot is drawn. By loyal and upright, the king will proclaim.

2. The Meaning

This lot refers to the creation of the world. It portrays prosperity in all things. This is a good fortune in store for you, thou not just yet. The Goddess Kuan Yin indicates to you in advance. To secure your own and family's safety, you should offer prayers. Autumn and winter will be very profitable for you. Business transactions and matrimonial affairs will turn out successful. The mother-to-be will give birth to a baby boy. Travelers will arrive soon and a person you are looking for will reappear. Prospects for farming raising silkworms and cattle are good and lawsuits successful. Anything lost will be found in the northeast. Illness will be overcome and your ancestral graves will be blessed.


Lot number: 88


Your Present

The global interpretation for this lot is:

Average

1. Translation from the Chinese ancient text

In front of a gate, a wooden tiger stands, looking so fierce but harmful to no one. It conjures up no threat of danger so you have no need to fear to venture out. Snow flakes fall on a hot stove. Whistling winds makes the ears cold. In fact they affect us so little; a change of fortune will solve it for you.

2. The Meaning

The wooden tiger imposes a false impression by its appearance and imposing manner. You will enjoy no peace at home and you will even be involved in scandals. Beware of mean and evil rivals who may ruin your efforts for gain. Neither business nor marriage will be successful and pregnancy fruitless and risky. Grains, silk and livestock will all suffer damage and losses. Visitors are delayed and there is no news of the missing. You will lose in lawsuits. Traveling is not advised. It is hopeless trying to regain things that are lost. The sick should offer a special sacrifice to god, the white tiger (controller of disaster and calamities) the situation is unfavorable for ancestral graves.


Lot number: 21


Your Future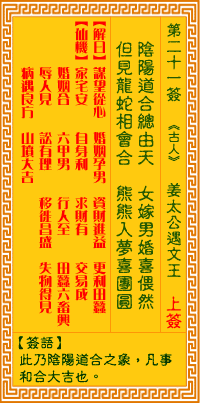 The global interpretation for this lot is:

Good

1. Translation from the Chinese ancient text

Bless is the union of the man and his wife. Who marries in accord with Yin and Yang. So a dragon and a serpent join together. United are they in a dream so sweet.

2. The Meaning

This describes the harmony of the sun and the moon. It symbolizes the great good fortune. Whatever you wish will materialize. A man and a woman will unite in marriage. There will be abundance of riches and an even better harvest is to come. Your family and your own safety is guaranteed. Trading will prosper and you will make money easily. Marriage will be successfully arranged and a boy will be born. It is a profitable year for farming as well as raising silkworm and domestic animals. A visitor will come soon and the missing will reappear. Things lost will be found. Lawsuits will go in your favor. Migration or move will bring you fortune. Sickness gets good treatment. Ancestral graves are safe and sound.