Guanyin Past Present Future!

Your Past Present Future Guan Yin Oracle
The three lots in this reading represent
your past, present and future situations.

Scroll down to learn the influence of each Lot.


Lot number: 54


Your Past


The global interpretation for this lot is:

Bad

1. Translation from the Chinese ancient text

All is false, all void, nothing is real. Things of value obtained only in a dream. In marriage, in health what future is there ahead? Better look elsewhere or dipped in distress. Things reflected in placid water, changing in shape and confused in order. But in destiny all is preordained so no advice or guidance is given.

2. The Meaning

Just as valuable things obtained from a dream care unreal so all your efforts may prove to be of no avail. The safety of you and your family is not certain. You must take precautions against possible risk. In seeking wealth and doing business, you will meet with obstructions. Matrimonial arrangements are unsuccessful. Time for farming and for rearing livestock and silkworm is not ripe. Pregnancy may have risk so prayer is essential. Your guest will be delayed but the missing will reappear. Legal action will turn against you. Moving your abode is recommended. Attempts to find things lost will be in vain. The sick who pray will regain health. Ancestral graves will be blessed.


Lot number: 83


Your Present

The global interpretation for this lot is:

Average

1. Translation from the Chinese ancient text

In nature the moon must wax and wane. On the 3rd and 4th of the month a crescent is seen. By the 15th day she is round and full. Making the sky so clear and bright. Things change in a natural way so be patient and wait for the time to come. When the moon reaches its fullness, all will proceed as you desire.

2. The Meaning

This describes the natural phenomenon of the moon appearing in a crescent. It illustrates that in certain human affairs what appears precarious in the beginning is not so in the end. Your family is under the protection of god so you must make a vow to replay what is given to you. During the summer and autumn there will be chances for you in profit making. For trade development, better wait and stay alert. Marriage takes time to succeed. Pregnancy leads to the birth of a girl. Silkworm and grain crop will be normal so will livestock. The visitor will be delayed and finding the missing is not as easy as you expect. Things lost will not be found. Disputes should be settled through mediation. Any change of residence is not advised. A special altar should be put up to drive out the devils plaguing in the sick. Ancestral graves should be converted.


Lot number: 36


Your Future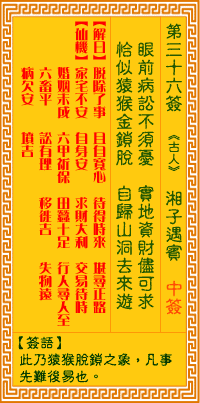 The global interpretation for this lot is:

Average

1. Translation from the Chinese ancient text

You're sick and involved in law, stay calm. Resources and riches await exploration. Doughty monkey frees himself from a golden chain. Roaming about in freedom in his mountain cave.

2. The Meaning

A clever monkey makes an escape from a golden chain. It signifies that difficulties and hardship can be overcome with effort. Once your worries and troubles are over, nothing is beyond your power. A man of patience will be highly rewarded. The road of success is open in front of you. There is uncertainty in your family but you are safe. Although business deal will be delayed, yet profit is available. Marriage prospects are not promising and pregnancy needs prayer for safe delivery. There will be a good grain harvest and raising silkworm and cattle will also be profitable. The visitor you are expecting is due to arrive and even the missing will reappear. Things lost can only be found far away. In dispute and quarrel, judgment will be on your side. Migration is promising. Recovery from illness is unlikely but ancestral graves remain safe and blessed.