Guanyin Past Present Future!

Your Past Present Future Guan Yin Oracle
The three lots in this reading represent
your past, present and future situations.

Scroll down to learn the influence of each Lot.


Lot number: 72


Your Past


The global interpretation for this lot is:

Average

1. Translation from the Chinese ancient text

Bees we raise for sake of honey, from time to time we are hurt by their stings. To make a living, there are other ways but many are the problems we never consider. In every action you take, think it over many times for heavenís sake. It is only to make honey that we raise bees so donít commit yourself too much if you want to be free.

2. The Meaning

This describes the scene of raising bees for honey. It means that money cannot be earned easily bit only with hard work. Very unfavorable circumstances threaten your home and put you in danger. Obstacles are encountered in money-making and trading will be delayed. Match-making will not be successful. In pregnancy, there is danger at the time of delivery. Crops of grain, silk and livestock will be small. The visitor you are expecting will arrive late and the missing is hard to find. You have little chance of regaining what was lost. Lawsuits are not to your advantage, Moving house is not recommended. The sick can only be cured by setting up an altar to expel the devils. Your ancestral graves begin to decay and are in danger of collapse.


Lot number: 51


Your Present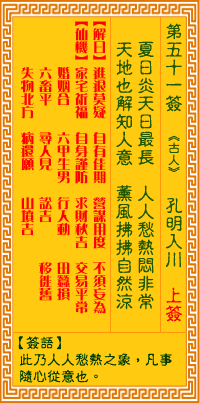 The global interpretation for this lot is:

Good

1. Translation from the Chinese ancient text

During the long tedious summer days, each man is tortured by the scorching sun nut now a breeze hoe soothingly does it blow, it is the will of heaven that caresses human souls. As long as you can remain calm during a dilemma. To your rescue will come a savior you can trust, so take this advice, donít move with haste and recklessness. For if you do, you will become both a fool and a victim.

2. The Meaning

This should that anyone who can take is easy in times of trouble will find relief from grief and sorrow. The message indicates that although you need not worry about your family, you must take care of your personal safety. In seeking monetary reward, you will enjoy good luck in the autumn but there is nothing exceptionally favorable in trade or business transactions. Matrimony succeeds and pregnancy leads to the birth of a baby boy. The guest you are expecting has already started on his journey. You will suffer great losses in farming and raising silkworms and rearing cattle is unpromising. The missing will be found. In lawsuits, you are likely to win. Traveling is not recommended. Anything lost will be found in the north. In order to pray for the recovery of the sick, you must make a vow to god. Good luck and no harm to ancestral graves.


Lot number: 1


Your Future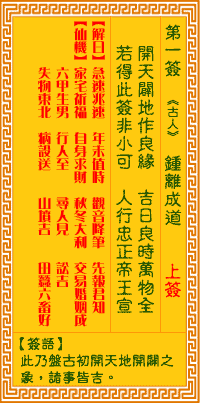 The global interpretation for this lot is:

Good

1. Translation from the Chinese ancient text

At the time the world began, all things were preordained. A favorable day brings each fruit ripeness. This is not uncommon that such a happy lot is drawn. By loyal and upright, the king will proclaim.

2. The Meaning

This lot refers to the creation of the world. It portrays prosperity in all things. This is a good fortune in store for you, thou not just yet. The Goddess Kuan Yin indicates to you in advance. To secure your own and familyís safety, you should offer prayers. Autumn and winter will be very profitable for you. Business transactions and matrimonial affairs will turn out successful. The mother-to-be will give birth to a baby boy. Travelers will arrive soon and a person you are looking for will reappear. Prospects for farming raising silkworms and cattle are good and lawsuits successful. Anything lost will be found in the northeast. Illness will be overcome and your ancestral graves will be blessed.