Now You Can Tell Your Own Fortune
Gong Hee Fot Choy Means Greetings of Riches
by Margarete Ward
See the 1938 advertisement below
Tells Your Fortune with Playing Cards Astrology and Numerology
A fascinating adult game of Fortune Telling with playing cards worked out by Margarete Ward, world traveler and former resident of China, who has combined her own occult knowledge with those of many famous Readers of Cards in the Orient and Europe.

Gong Hee Fot Choy comes with board and guide book.

Popular Edition -- Board Covers, Sells for $1.00
DeLuxe Edition -- Cloth Binding, Sells for $1.75
(With Small Playing Cards, Sells $2.10)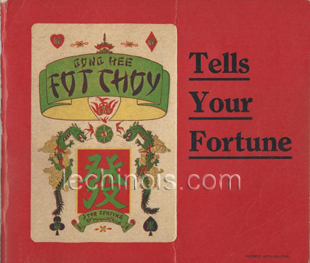 Gong Hee Fot Choy Dream Book

Is Margarete Ward's latest book -- wich Psychically
interprets your dreams and includes the new added
features of Chinese Philosophy with Planatery Hour
Guide . . . . . . . . Sells for 50 cents.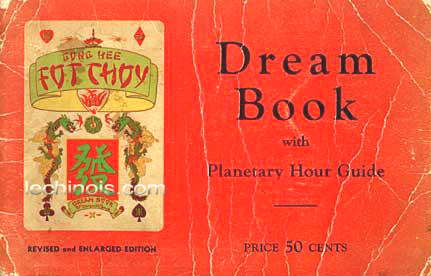 Go To The Dream Dictionary


Born to the Purple
A Novel by MARGARETE WARD

* An Exiting Story of Reincarnation. A mystic tale.
Wonderful word scenes from China, India, Europe
and America. Full cloth --- Sells for $2,50.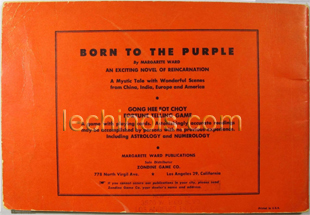 Catalog of Copyright Entries.
New Series: 1938-1939, Partie 1
Winfield, Margarete Ward, Los Angeles.
Born to the purple; the karma of princess Minerva,
by Margarete Ward. © Nov, 16 1938;
2 c. and aff.
Dec.2 ; A 123937. 16243
---