The Cross Draw is a very popular classic.


The layout of the cards.

Card 1. It is the left side of the Cross. This card represents the assets of the person who consults. The positive factors in relation to your question or problem.

Card 2. It is the right side of the cross. It highlights the negative factors. Those who play against the will of the person who consults.

Card 3. It is the top of the cross. It indicates what the problem is or the state of the question is at this moment or in a short period.

Card 4. It is the bottom of the cross. It indicates where the state of the issue for the future, or in the medium term is heading.

Card 5. This the synthesis which tells us if the issue goes to a positive or negative result. However, we must consider the entire spread to interpret the meaning of this card synthesis.


| | | |
| --- | --- | --- |
| | 3. Your Situation | |
| 1. The Pros | The Synthesis | 2. The Obstacles |
| | 4. The Evolution | |
1. The Pros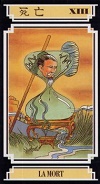 Card 13
DEATH


The card announces the total overthrow of a situation, an opposite way of seeing things. The subject is a total reshuffle of his case or his work. It puts an end to a situation that cannot continue and start over in another direction.


2. The Obstacles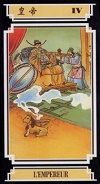 Card 4
THE EMPEROR


The card indicates that the subject has built his profession on a solid and stable basis that he knows to manage and administer. He is the authority in his profession and encourages respect. It announces a high function access.
Auspicious: it can also indicate the support of important figures, like politicians.
Against: One rebels against authority. Administrative issues, disorder, mismanagement.


3. Your Situation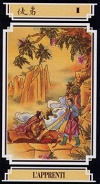 Card 1
THE APPRENTICE


The card announces a start, a beginning or an apprenticeship. The subject is in the process of beginning studies or retraining (foreign language, computer science)
Auspicious: the card invites or approves this learning.
Against: there will be an obstacle to an apprenticeship or the card indicates that the subject lacks sufficient knowledge.


4. The Evolution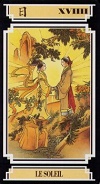 Card 19
THE SUN


The card announces a brilliant accomplishment or success. The subject's businesses are radiant. His work is known and appreciated. The subject may achieve fame. The card can also indicate a professional association, or even announce a connection to his love life. The subject could work with his love partner.


The Synthesis
Card 22
HARVEST


The card is auspicious, it indicates that the subject will harvest or reap the fruit of his efforts. He reaches the end of a cycle. He has completed a deal, a negotiation or a task. He may take a little rest, a vacation or a sabbatical year. It is advisable he gets some rest before heading back to a new task.