The Cross Draw is a very popular classic.


The layout of the cards.

Card 1. It is the left side of the Cross. This card represents the assets of the person who consults. The positive factors in relation to your question or problem.

Card 2. It is the right side of the cross. It highlights the negative factors. Those who play against the will of the person who consults.

Card 3. It is the top of the cross. It indicates what the problem is or the state of the question is at this moment or in a short period.

Card 4. It is the bottom of the cross. It indicates where the state of the issue for the future, or in the medium term is heading.

Card 5. This the synthesis which tells us if the issue goes to a positive or negative result. However, we must consider the entire spread to interpret the meaning of this card synthesis.


| | | |
| --- | --- | --- |
| | 3. Your Situation | |
| 1. The Pros | The Synthesis | 2. The Obstacles |
| | 4. The Evolution | |
1. The Pros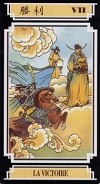 Card 7
VICTORY


The card announces a near success. A success, some honors, a reward. A victory against an opponent or a competitor. The subject became the best in his field. A victory in a championship, or a contest in an election. Generally speaking, victory against adversity.
Against: the subject is going to be defeated by one stronger than him.


2. The Obstacles
Card 10
DESTINY


Affairs of the subject turn out well. His work is profitable. It easily provides for the future, anticipating the reactions of others and acts accordingly. He is extremely creative. The card is favorable to the professional success of the topic. In the short term, the card announces a success.


3. Your Situation
Card 14
BALANCE


The card is auspicious. It announces a great balance; material or intellectual wealth; a fair and balanced way to work or create. The subject has his feet on earth and knows how to use his imagination. He is diplomatic and knows how to use his gifts of communication and charm to succeed. Perhaps there is a slight readjustment required. But things are going well.


4. The Evolution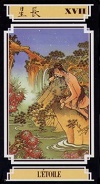 Card 17
THE STAR


The card is a good sign. It evokes fullness, beauty, or fertility. It indicates that the business of the subject is prosperous, without a sign of stopping. It announces a fullness, either intellectual or artistic. The subject can feel satisfied with the result of his work, or the goods and works he has accumulated.


The Synthesis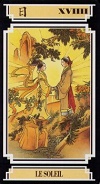 Card 19
THE SUN


The card announces a brilliant accomplishment or success. The subject's businesses are radiant. His work is known and appreciated. The subject may achieve fame. The card can also indicate a professional association, or even announce a connection to his love life. The subject could work with his love partner.