Guanyin Past Present Future!

Your Past Present Future Guan Yin Oracle
The three lots in this reading represent
your past, present and future situations.

Scroll down to learn the influence of each Lot.


Lot number: 56


Your Past


The global interpretation for this lot is:

Average

1. Translation from the Chinese ancient text

On a rocky stream runs bubbling and shallow water. The men of state enjoy the breeze and silvery moonlight. Seek out the way that marks your destiny. The scent and sight of flowers should no distraction be. A man puts all his energies on the project. But achieves nothing no matter how hard he tries. So the best policy for him is to wait and see. In the end, things may turn out well for him.

2. The Meaning

This describes a scene of sailing along a rapid stream. It illustrates that great deeds can be accomplished only with strenuous effort. Both of you and your family will have a peaceful year. Prospects of business dealing and making money are not bad. Matrimony will be successful and after your marriage, your wife will have a baby son. A visitor will soon arrive. Your cattle will suffer damage but prospects for farming and raising silkworm are good. The missing will be found. Going to law, you will succeed. Change of residence is recommended. Things lost will be found and the sick will soon recover. For the sake of your safety, you should have your ancestral tomb repaired.


Lot number: 35


Your Present

The global interpretation for this lot is:

Average

1. Translation from the Chinese ancient text

Your hats and coats must be adjusted. Restore the family name, now in bad shape. Remove the thorns and thistles, pave the way. When agreement is reached, great will be your reward.

2. The Meaning

This lot describes people dressing up in rich and formal costumes to upload the familyís name. Hardship must come before your wishes can be fulfilled. Doubts and fears lead to nothing, better wait for your lucky day. Be bold and set off on your journey because ahead of you is a wider avenue of opportunity. Your household will be in chaos but you are secure. Business transactions go well, bringing good profits. There will obstacles in marriage and pregnancy will be threatened by danger. Faring and raising silkworms are not profitable but livestock will give you a good yield. Visitors will come soon and the missing will be found. Lost things will reappear late in the year. Lawsuits will be favorable. Migration is encouraging; Illness can be cured through godís blessing. Leave your ancestral graves unchanged and the family will benefit.


Lot number: 76


Your Future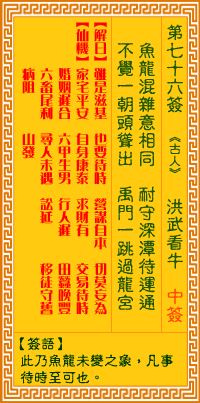 The global interpretation for this lot is:

Average

1. Translation from the Chinese ancient text

In a swamp together live a fish and a dragon. Both hide in the deep waiting for the lucky day. Some day their chance will eventually come. Over the Royal Dragon Gate they pass in one leap. Though you have laid a slid foundation, your favorable time is not yet come. To wait and see is the best advice, to take risks is imprudent and crazy.

2. The Meaning

This is a parable which the fish and the dragon conceal themselves in the deep and wait for the chance of a lucky fate. Your family is safe and you are fit and healthy. You have a chance of gaining wealth but trading prospects are not good for the time being. Matrimonial arrangements will take time before reaching a final agreement. Your wife will have a baby boy. Silk and grain crops will come a little late but in abundance. Similarly, livestock does not look good at the beginning but will later turn out profitable. The visitor you are expecting will arrive late and there is no news of the missing. Lawsuits will drag on without a settlement. Moving is not advisable so stay where you are. Sickness will be prolonged. Ancestral graves will bring you luck and fortune.